CHOFF AT NIGHT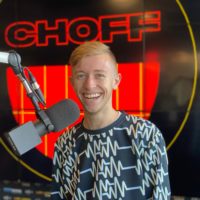 Join CHOFF weeknights and Saturdays! 
Heyo! They call me CHOFF! My mission every night is to make you smile and help shed light on new perspectives in our crazy world. My main passions in life are music, food, animals, and skateboarding. I love social media and I (no joke) spend about 12 hours  per day on my phone.
My favorite thing about Montreal is the people, like you! My shows are nothing without your amazing stories every night; so think of me next time you have some unexpected thing happen in your life!
When I'm not on-air, you can likely find me posted up in a coffee shop or zipping past traffic on some kind of electric scooter / skateboard.
Reach out and text me at 800-947-0947 or hit me up on social media @heychoff!