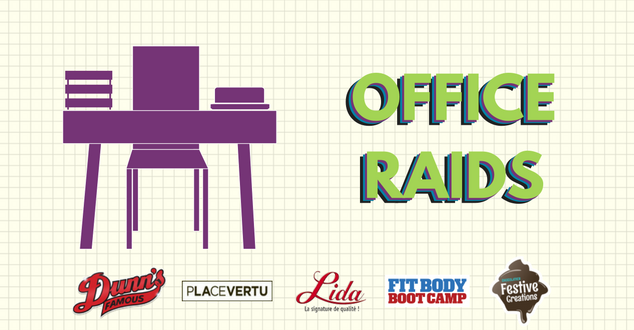 94.7 Hits FM & Lida Furniture are looking for offices to raid at lunch on Fridays in October!
Register in the form below!
If we pick you, Lida Furniture will give you a new stylish chair for your home or office.
And for you and up to 19 co-workers:   Dunn's Famous de l'Ouest will bring lunch – and Chocolatier Festive Creations will bring the dessert.   We've got prizes too from Fit Body Boot Camp DDO and Place Vertu!
The 947 Hits FM Office Raids is presented by …
Lida Furniture in Saint- Leonard.   Celebrating 50 years of quality furniture imported from Italy.  Lida Furniture, signature of quality!
In association with …
Dunns Famous de l'Ouest:  … more than Smoked Meat. Come discover us in Marche de L'Ouest.
Chocolatier Festive Creations:   homemade chocolates, cakes, cookies and much more!  visit : festivecreations.ca
Fit Body Boot Camp in DDO: The Unstoppable Fitness formula in just 30 minutes.
Place Vertu:  Shop, Eat, Experience, visit placevertu.com
The 94.7 Hits FM / Lida Furniture Office Raids — is only on Montreal's Hottest Music, 94.7 Hits FM!