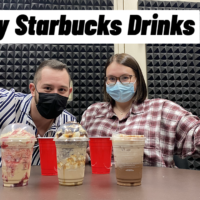 This week, Alex and Vas try to not only order, but also drink crazy Starbucks orders!
Whether it's considered a "secret menu" item, or just an insanely complicated frappuccino, wacky starbucks drinks have been all over social media lately. Alex and Vas decide to see what the trend is all about! Will they find new favourites? Or is this all just hype?? Keep watching to find out…
Comment below with YOUR favourite starbucks drink!!
Filming: Alex Bolton and Vassili Marinis
Editing: Vassili Marinis