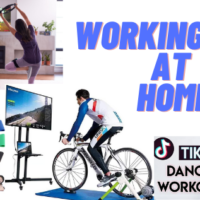 Today I am going to talk to you about the 4 words that not everyone likes to hear…. working out from home. I get it, getting yourself hyped up to stay consistent at home is HARD! I am sure everyone is just as sick of the words "from home" in general. I had a gym membership that I did not renew this last September, to me it did not make sense to renew during a time when my gym closed every second week from Covid. I ended up getting really lucky because 1 month later, gyms closed in Quebec and have not opened since then.
SO! What have I been doing since then? Moving my body! I was one of those people that had it in my head that I needed to be at the gym to lose weight, to get stronger, to help myself get healthier. I thought that could only be done in the gym but not anymore.
You don't need to join expensive workout programs that make you buy their shakes or pre workout. You don't need a fancy Peloton. You don't need a huge selection of equipment! You just need to move your body.
CARDIO 
I bought a really nice bike this summer. I invested in something that could keep me busy outside safely away from others. I also bought a trainer this fall. The best thing about that is now I don't have to spend a bunch of money on cardio equipment. I just bought new tires for my bike and put it on my trainer. BOOM indoor bike. SO if you already have a bike at home I would look into finding yourself a trainer. I promise you that fancy equipment is not needed. I also have a jump rope. Walking is really good cardio for your body. It is colder outside and makes it harder to want to be outside but you only need 30 minutes of cardio!
YOUTUBE WORKOUTS 
I found some great FREE workouts I love on YouTube! MadFit being one of them. She posts lots of dance workouts that are actually fun and  for everyone. If a move is something I have a hard time doing I just modify it until I am strong enough. She also has lots of apartment friendly workouts that don't have you jumping around and driving your lower neighbors crazy.
VIDEO GAMES
We bought a Ring Fit for our Nintendo Switch! I LOVE THIS! I was skeptical because video game workouts are usually not that great but wow! This is 100% a game changer. You can play it like an actual video game and to beat the boss to move on to the next level,  you need to kill it by working out. They have mini challenges to keep everyone in the house interested and involved. You can do workouts for different body targets. Arms, back, legs, booty, chest, lower belly, core and even more. It works and for only $100 it was a great investment for indoor winter workouts. So if you already have the Nintendo Switch and have been looking for something new to add to your workout, look no further!
https://www.youtube.com/watch?v=lXXIml4_0bI
RESISTANCE BANDS
Do yourself a favour and buy yourself some resistance bands. They are affordable and you can get them from Amazon! They help replace lots of gym equipment and weights. If I could only have one piece of at home gym equipment it would be these! You can find lots of FREE YouTube videos with workouts. Lots of Tik Tok accounts have 1 minute videos to help you learn how to better use a resistance band. You can add them to lots of everyday workout moves to help make the moves harder and they are easy to transport so you could take them into the office and do some great stretches on your lunch break.