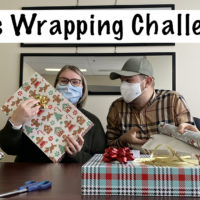 This week, Alex and Vas get in the holiday spirit by trying to wrap the best they can in 60 SECONDS!!
Watch as they try to cut, fold, and tape as fast as they can in the hopes of ending up with a (slightly) presentable gift for the tree. What can possibly go wrong in 60 seconds? Keep watching to find out!
Comment down below what your favourite Christmas wrapping pattern is!
AND MAKE SURE you go check out our Christmas song bracket on our Facebook page so YOU can choose the best Christmas song of ALL TIME!
Filming: Alex Bolton and Vassili Marinis
Editing: Vassili Marinis