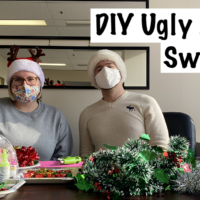 This week, Alex and Vas get in the holiday spirit by decorating their own UGLY CHRISTMAS SWEATERS!!
Watch as they try to decorate normal sweaters and turn them into something worthy of an office christmas party. They also get to talking about all the things 94.7 Hits FM is up to during the month! The holidays are always busy busy busy! Wanna know what we have in store? Keep watching to find out!
AND MAKE SURE you go check out our Christmas song bracket on our Facebook page so YOU can choose the best Christmas song of ALL TIME!
Filming: Alex Bolton and Vassili Marinis
Editing: Vassili Marinis