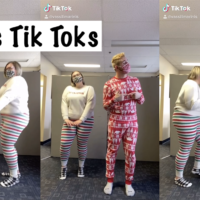 This week, Alex and Vas get in the holiday spirit by trying holiday Tik Tok dances!!
Watch as they try to nail these dances, and try to make their way to Tik Tok FAME. You guys enjoyed the original Tik Tok dance video, and this one has all the fun but with (slightly) more skill! Would they be adopted into a Tik Tok "House"? Keep watching to find out!
Comment down below what your favourite holiday Tik Tok dance is!
AND MAKE SURE you go check out our Christmas song bracket on ALL our social media so YOU can choose the best Christmas song of ALL TIME!
Filming: Alex Bolton and Vassili Marinis
Editing: Vassili Marinis