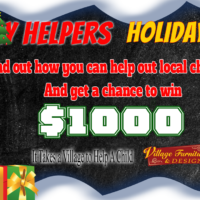 It takes a Village to help a child. 94.7 Hits FM and Village Furniture & Design invite you to be a Holiday Helper. This year more than ever it takes a little bit from many to help our children. To ensure we are able to fill the needs of our children while respecting the limitations of our community, we are asking for 3 items for an age of your choice between newborn and Twelfth grade. A book, Pajamas, and or a board game.
This year there will be boxes at:
Adirondack Powersports, MJ Leroux Oil Company, Furniture Weekend, BMJ Midway Market, Ward Lumber, Village Furniture & Design, ABCD Hardware, Arnold Lumber & Concrete, Collin's Oil, and KFC Taco Bell in Malone.
Bring your donation of a book, PJ's and or a board game and you get any entry for a chance to win $1000 for every item you donate!!!
Please Join 94.7 Hits FM with Village Furniture & Design, Franklin County Service organizations and all our generous businesses, It truly does take a Village to Help a Child. For information check out the Holiday Helpers Franklin County Facebook page.