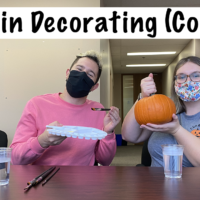 This week, Alex and Vas try decorating their pumpkins with PAINT!
Watch as they each give their pumpkin an extra bit on UMF with paint and a few brushes. Who will do the better job? Keep watching to find out!
ALSO, make sure you pay attention as we announce our new CONTEST, and find out how YOU can win 947 PIECES OF CANDY on our website 947hits.com!
A special thanks to Plaza Pointe-Claire for teaming up with usto make this Halloween contest happen for our community!
Filming: Alex Bolton and Vassili Marinis
Editing: Vassili Marinis