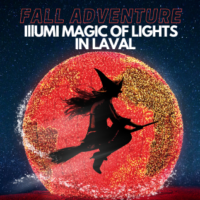 If you are looking for things to do with the family to get out and enjoy the Fall/Halloween season then Illumi MAGIC OF LIGHTS is something you need to add to your list!
Laval's  Illumi village of lights is kicking off next month for a special Halloween 2020 edition. Tickets are on sale now but it looks like there is only a limited amount up for grabs so if this is something you want to add to your Spooky Season 2020 list, now is the time to buy them. It also looks like there will be no ticket sales on site. You must book your tickets in advance and online.
Not only does this look like it's going to be a fun and safe way to enjoy our short fall season, they also have 3 different way to explore and enjoy the magical lights.
BY CAR
Illumi transforms into a three-kilometer car route including some widened traffic lanes for momentary stops to take photos and videos.
WALKING
A safe and clearly delimited three-kilometer pedestrian route allowing visitors to live the Illumi experience on foot by strolling through each of the paintings.
BY LITTLE TRAIN
Visitors also have the option of boarding small Illumi trains and being transported – literally – through the Féerie de Lumières.
For more information click here!