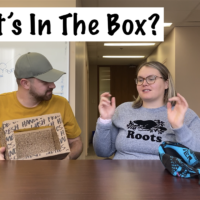 This week, Alex and Vas try the What's in the Box Challenge, where they each have to guess what item is in the box while blindfolded!!
One at a time, they will have to show off their guessing skills to be able to correctly name the item that the other has put in the box. Who will have the most correct guesses? Who will guess the fastest? WILL THERE BE TEXTURES????
Keep watching to find out!
Filming: Alex Bolton and Vassili Marinis
Editing: Vassili Marinis