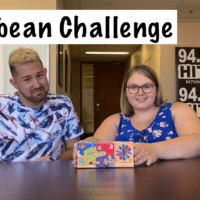 This week, Alex introduces Vas to one of her favourite games… BEANBOOZLED!
They will each have a turn to spin the wheel, and hope that they don't eat the gross flavour for each bean colour. What flavour options are they gonna get? Will they be able to swallow the beans? Will Vas EVER play this again?? Keep watching to find out!
Disclaimer: Due to the current situation, masks are mandatory in public indoor spaces in Montreal. We filmed this alone in our office and made sure to sanitize the area so we are not wearing masks in this video. Please stay safe.
Filming: Vassili Marinis and Alex Bolton
Editing: Vassili Marinis