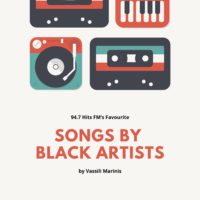 Music, in my opinion, is one of the best ways to connect with people. Not only are we able to connect to those around us through our favourite songs, or even just a general love of music, but also to the artist! Music gives us a look into the life of the artist: their feelings, their wants, their hurt…
          If you're looking for black artists to form this connection with, here are some songs you should DEFINITELY CHECK OUT!
Chloe x Halle – Do It
          Our first song is about just being you and enjoying life while doing it. Sisters Chloe and Halle Bailey form this iconic duo, starting off on youtube before getting discovered by Beyoncé's own Parkwood Entertainment. This such is such a fun R&B track with gorgeous, breathy vocals, and makes you feel like you can do ANYTHING! Keep an eye out for Halle Bailey starring as Ariel in The Little Mermaid very soon.
Kaytranada – The Worst in Me
          Montreal native Kaytranada has so many great tracks, I'm sure many of you would recognize his music if you heard it. Off his most recent album BUBBA, The Worst in Me is easily my favourite song off the album, and Kaytra has even said that its his as well. Tinashe provided the vocals for this song, and her sound combines so well with Kaytra's easy club beats to make a genuinely fun track.
Janelle monae – Django Jane
           If you already love Janelle Monae's fun, catchy pop music, forget all you expectations for this song. Janelle's spirit is still interwoven throughout the whole track, but this time she is taking the opportunity to speak out about the oppression she feels as a woman, specifically a black woman. It's an empowering track that Janelle says is her way of supporting those who have been marginalised in society.
Maky lavender – Bloom
          Another Montreal native, and one of our past Future Hits artists, Maky Lavender has been BUSY in 2020, releasing 2 full albums. Bloom, the first single from his album …At Least My Mom Loves Me, is a song about loneliness and depression. He uses the analogy of a flower to show that while depression can feel like a constant rainfall in someone's life, if you give them enough sun, they can still bloom.
Solange – F.U.B.U.
          An acronym for For Us By Us, F.U.B.U. is a powerful Black empowerment anthem. While technically having a very simple, stripped down sound, Solange uses this song to address the discrimination that she and the rest of the black community faces every day. I honestly think this song is a must listen, especially if you want to be educated on this topic, even though Solange makes sure to remind me that, as a white man, this song is far from my story.