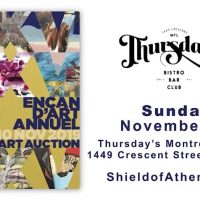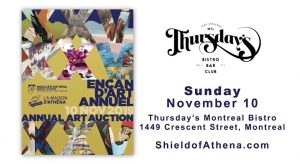 On Sunday, November 10, the Shield of Athena Family Services first woman's shelter called Athena's House, turned 15 years old and what better way to celebrate than by attending their annual art auction at Thursday's in Downtown Montreal, as the event itself also celebrated 25 years.
Volunteers from the Laval and Montreal communities support one another by opening their doors to women who were courageous enough to leave their abusive relationships and start over as the Shield of Athena volunteers welcomes these women with open arms.
This organization focuses on being able to educate the community on the specific issues that surround intervention and the laws on conjugal violence in order to promote a better access to issues of social justice.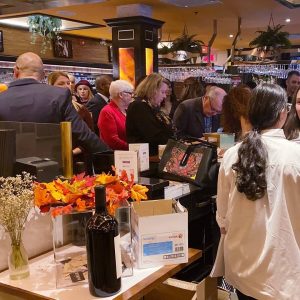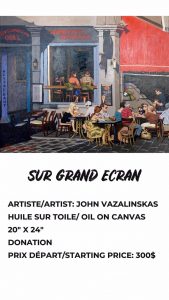 People, mark it on your calendars. Every November the Shield of Athena's art auction is available to the public. Artists donate their art to the shelter and all of the proceeds go to fund  the Second Step Resource Shelter which will house more woman and children in need of a helping hand.
As of today, the Shield of Athena includes two centers, an emergency shelter and a community outreach department, women and their children are then given the necessary services and tools to break the cycle of abuse.
The Second Step Resource Shelter is currently in progress, and will eventually also be added to this network as the funding continues.
Written by: Victoria Bakos