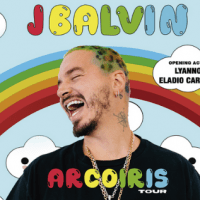 To all of the Montreal Latino fans— who caught that concert on Sunday night? I sure did, and let me tell you Jbalvin brought it—he gave his all, and it showed.
For anyone who is not even a huge fan but likes certain songs of his, it was perfect for them too—no worries.
He sang every banger as he also brought out a mini version of "Cardi B" and "Bad Bunny" to the stage for the iconic collaboration of 2018 "I Like it."
 There were effects, laser lights, club anthems and more. I mean, what more could you ask for? The crowd was wild, which fits Jbalvin's persona to a T.
If you asked anyone who attended the concert—they would admit to saying that the singer's stage set was majorly influenced by the last level of Mario Kart that no one seems to win. However, if you are that person who surpasses that level easily—I beg you to spill your cheat codes on the video game. Sharing is caring.
Nonetheless, Jbalvin interacted with the crowd and even took a moment to genuinely thank his fans, as he admitted that they are his biggest inspiration. He was even gifted a Montreal Canadiens jersey during his performance.
After the lovey-dovey stuff, the setlist re-heated as he ended the night with "Mi Giente"—and you could just imagine how Jbalvin let the crowd go insane, as he took his final bow.
Written by: Victoria Bakos