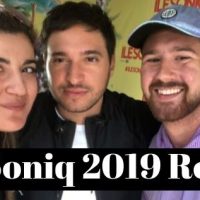 Since 2014, Montreal's Ile Soniq festival has gathered thousands of people together to listen among their favourite DJ's in a live setting. Ile Soniq is always known to pick the best of the best for their sets that usually last over two days, in August. It is no secret that last weekend was the 6th annual year for this festival in Montreal and we were a part of it.
For 94.7 Hits FM, it is our third year covering this festival and this year we had the opportunity to interview three famous artists. Our interviews include none other than Jonas Blue, Relax Josh and Snails.
Ile Soniq is known to be eccentric, colourful, and let us be honest — a total chaotic mess, which we cannot get enough. This year 78 000 electronic music lovers were apart of the attraction. Ile Soniq 2019 was known for its visual effects, line up, and it did not disappoint for the #ilesoniqfam "foodies." Food trucks that offered a wide variety of dishes and local specialties including vegetarian, vegan and gluten-free options. Not to mention the numerous cocktail bars on-site were Montrealers were able to beat the heat.
Do not miss the 7th annual Ile Soniq for summer 2020. It only gets better.
Written by: Victoria Bakos