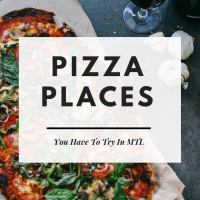 By: Jayda Pounder
Montreal's known for so many things. Its poutine, its wide range of festivals throughout the summer, and of course, its huge variety of restaurants to choose from that cater to everyone's tastes. One of my favourite things to order is pizza and the huge amount of pizzerias here never disappoint me. There's nothing better than enjoying it with a glass of wine in a beautiful restaurant somewhere around the city, so whether you're bringing your bae or your besties, you'll be sure to find something you'll love on this list!
Looking for a classic thin crust, stone oven pizza? Try Bacaro's.
So, there's quite a few locations around the city now, and I've never had a bad experience. The stone oven makes the pizza super crispy and really gives it a one of a kind flavour. Not to mention, the different types of pizza topping combinations mesh so well together (my favourite's the four cheese!) Not only that, if you're not feeling any of the options, they will let you build your own pizza and pick out all of your toppings. What more could you want?
Super picky about your pizza, but not looking to break the bank picking your own toppings? Try Brigade.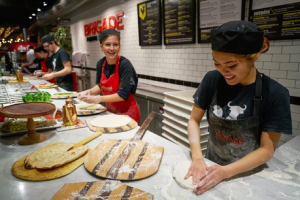 This place is all about letting you personalize your pizza to your own tastes. From arugula, prosciutto, to ricotta cheese, there's so many different toppings to choose from without making you feel like you're paying too much for "extras". Just like Bacaro's, its pizza is also neapolitan and made to crispy perfection in a wooden oven. The service is super fast too; you're able to pay for your pizza at the front right away and they bring it to your table. It's definitely the spot to go to for a quick lunch or if you're on the go but still want to feel like you're eating at a sit-down restaurant!
Looking for a pizzeria that has a lot of other great food options as well? Try Monza.
This is definitely a classic Italian place for me. Whenever I'm not sure what restaurant to go to downtown, Monza is always one of my go to's. Not only do they have amazing thin crust pizza, but they also have a wide range of pastas to choose from! My favourite is the basil pesto and parmesan, but I hear their other main dishes like their lemon chicken are to die for as well.
In the mood for a pizzeria with party vibes? Try Weinstein & Gavino's.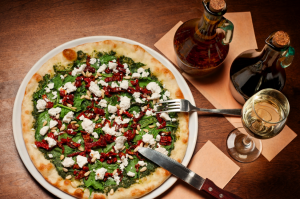 The dimly lit, fancy ambiance is perfect if you're looking for a bougie night out with your friends or a cute date night with your boo. They have so many good dishes but my two absolute favourites are the ricotta, fig, and caramelized onion pizza paired with their tiramisu for dessert!  The overall vibe of the restaurant is super warm and welcoming so it's sure to be a great experience.