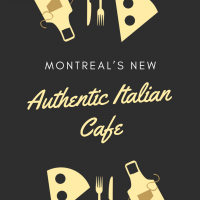 by Victoria Bakos
ARE YOU HUNGRY FOR AUTHENTIC ITALIAN CUISINE?
TAKE A LOOK AT MTL'S NEWEST AUTHENTIC CAFÉ :
CAFÉ BISCOTTI E CUCINA
1657 RUE SAINT DENIS,MONTREAL
WHAT IS BISCOTTI E CUCINA ?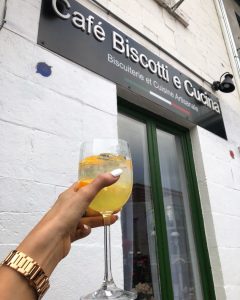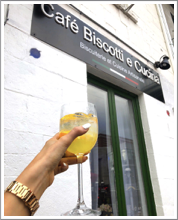 — Biscotti e Cucina is founded by Luisa Abate and her beloved Italian family. She decided to open up a biscuiterie Artisanal in summer of 2017 called Biscotti e Compagnie.
Did you know Biscotti e Compagnie supplied to your favorite Montreal café's such as San Simmeone, Milano, and Café Aroma Paninoteca ?
WHAT MAKES IT AUTHENTIC ?
—They created their very own coffee blend and use the state of the art coffee machine imported from Italy called "Victoria Arduino", one of 3 in Montreal. It matches well with the blue velvet booths, brick wall, neon light sign "La Vita e Bella" and the Sofia Lorena art pop photo.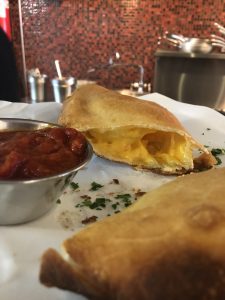 WHAT MAKES IT UNIQUE ?
—EVERYTHING is made by hand, the pasta, vinaigrettes for the salads, the Nutella cookies, Biscotti, tiramisu —
This cafe is made out to be as if you are truly dining over at your Nonna's.
Their fixed menu is usually made out of homemade pastas, fried Neapolitan pizza and Italian style poké with a twist— (BRB salivating right now).
TOP 5 THINGS TO TRY AT BISCOTTI E CUCINA
1) NEAPOLITAN FRIED PIZZA (PIZZA FRITTA)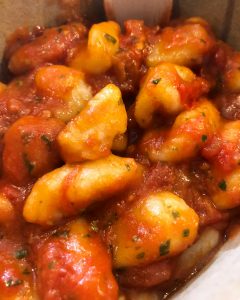 There are two varieties, one all dressed with ricotta, mozzarella, and Italian sausage, served with a side of fresh tomato sauce for dipping purposes. They also have a classic fried pizza with cheddar cheese — out of this world.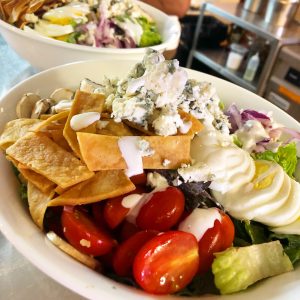 2) VOLARE SALAD AND DIPINTO DI BLUE SALAD
VOLARE SALAD: homemade honey mustard vinaigrette, sweet potato curds, almond slithers, red onions, tomatoes, pumpkin seeds and corn— (PLS cue in heart eye emoji*).
DIPINTO DI BLUE SALAD: homemade blue cheese vinaigrette, cherry tomatoes, avocado, egg, red onion, bacon, mushrooms, homemade tortillas chips, and blue cheese.
—> PERFECT DREAM FOR ANY BLUE CHEESE LOVERS <—
3) TIRAMISU BAR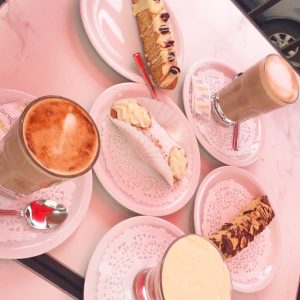 The Tiramisu Bar is incredible, as it has such a VARIETY to pick from and using the one and only Italian mascarpone.
INCLUDES: Strawberry, Nutella, Oreo, Matcha Limoncello and classic Tiramisu, this is Montreal's MUST HAVE dessert.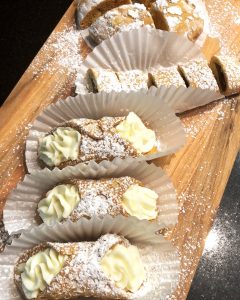 4) CANNOLI
Of course, you cannot go to an Italian café and not try a cannoli.  I mean, are you really an Italian if you don't?
They are piped on order and served to the customer fresh. When someone orders cannolis in a box they are piped 10-15 minutes before pick up or delivery, and when a client orders them in the resto after their fresh pasta dish, they pipe it on the spot with our very own ricotta filling. Baker Luisa takes pride in her ricotta filling as she uses simple and fresh ingredients
5) NUTELLA COOKIE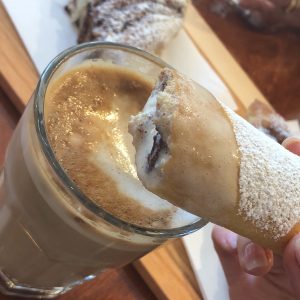 YES, you read it LOUD AND CLEAR. Biscotti e Cucina have their very own famous nutella cookie which was featured in all the Italian cafes, restaurants and bars for the past 10 years, all ordered by baker Luisa (do we not love her right now? Omg, i do!) MADE WITH an incredible slightly flaky dough, with the one and only Nutella Ferraro hazelnut spread with cocoa.
FUN FACT: This is any kids dream and brings "adults and the nonni's back to their childhood as nostalgia sits with you as you indulge in this dessert" ("JUST SAYING")
NOW ONTO THE DRINKS!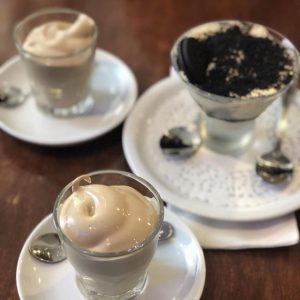 1) CREMA CAFÉ
So, it's not a cold coffee and it's not a soft ice cream but it is CREAMY and SPLENDID.
PERFECT for any person's coffee fix on a hot Montreal day, plus they use their own recipe for the mix.
2) APEROL SPRITZ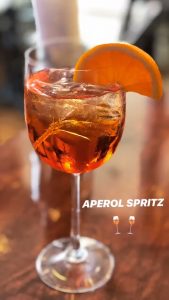 FINALLY, the drink that will SAVE YOU from this September heatwave! This drink guarantees you happiness as it plays with your taste buds and starts a party. MADE WITH two parts aperol, two parts prosecco and a splash of sofa garnished with an orange slice.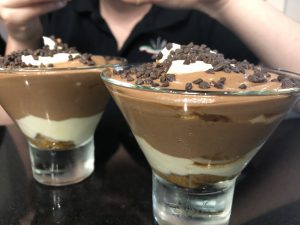 3) ALCOHOLIZED LATTÉ MENU
YES YOU HEARD ME—ALCOHOL!
The Latté Gianduia and Latté Limoncello are MUST HAVES as it contains Biscotti e Cucina's signature coffee blend made with the state of the art coffee machine Victoria Arduino, topped with a shot of Italian alcohol, garnished with whipped cream and Belgium chocolate—Tasty and Classy.
4) LIMONCELLO SPRITZ
YES it is not very popular in Montreal but that is because it is something new and unique that you will only find here!
This spritz is beyond refreshing, beyond tasty and makes you feel as if you're picking lemons of a tree in Sorento Italy!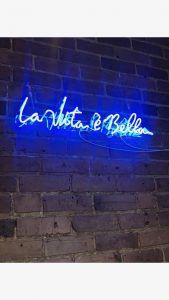 You can follow ALL the tips and tricks from Biscotti e Cucina on their instagram account
"biscottiecompagnie".
A special mention to Melissa Montuori, daughter of baker Luisa. A special thank you to you and your family, as this article would have not been possible without your help.
May you spend your days at this new authentic café, as it is a home away from home to all cultures and nationalities —Montreal's very own— living la bella vita as you get a taste of Naples Italy. What could get better then this?