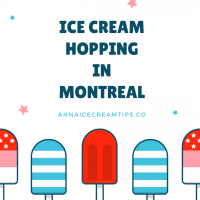 By Tiffany Assaly
Montreal has been opening more interesting ice cream shops over the years! This summer grab a friend and try all these interesting ice cream locations!  
Start your first journey at this interesting ice cream parlor that uses liquid nitrogen to ensure the ice cream stays cold. This store is located on St-Catherine and not only do they use liquid nitrogen for their ice cream, they also have fruit options using the same liquid nitrogen technique!
2) Dalla Rose
 This is your next stop! If you've ever been curious to try vegan ice cream, then this is the perfect place for you! They also offer ice cream sandwiches! Definitely try this place out if you want something new! This little place is located in St-Henri!
3) 30 Sous Zéro
This ice cream location is not your average ice cream scoop place. Their speciality is to roll the ice cream into small cylinders. They use only pure ingredients to provide the best taste and texture! Check them out at Quarter dix 30!
4) Le BlueBoy: Artisan Glacier
For this place be ready to eat a lot! Their speciality are the ice cream sundaes. You can order a churro sundae or theirwatermelon bowl. This bowl is filled with scoops of watermelon and lots of ice cream all served inside the carved out watermelon!
5) Zoe Desserts
This dessert location serves various interesting tea desserts however they also serve scoops of ice cream inside a fluffy waffle cone. If you want two desserts in one this is the place for you!
I hope you enjoyed these different and unique locations! Try them out for a fun twist on classic ice cream!