By: Jayda Pounder
​
Is it really summer in Montreal if you're not eating a good meal and drinking a pitcher of sangria on an outdoor terrace? With summer here after an
extra long
winter, cafes and restaurants all around Montreal are terrace-ready. So
if you're not sure where to go or are looking for some new ones to try, I've got you covered with these four.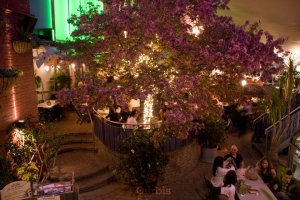 1 .

All about the aesthetic? Try

Jardin

Nelson
​Jardin Nelson is located in the heart of the Old Port and the atmosphere is to die for! They have a live jazz band that plays every day, cobblestone floors, pretty lights, trees; it almost feels like you're eating in some sort of enchanted garden. It's a bit on the pricier side, but the beautiful ambiance and its' one-of-kind aesthetic is definitely worth it, especially if you go at night. For more info: http://jardinnelson.com/en/
2. Looking for one that offers really good sangria? TryTerrasses Bonsecours or La Belle et le Boeuf
​
Terrasses
Bonsecours
is one
of the most popular places to go to in the summer and it's clear why. From their outdoor boozy brunch every Sunday, their
pretty outdoor bistro terrace all evening, to the fact that it's right in front of the huge Old Port
ferris
wheel; you're sure to hav
e
the best time while you're there. I've also heard their sangria's amazing and they offer some of the coolest
flavours
. If you're more into a restaurant vibe, La Belle
et
le Boeuf has a great terrace as well, and their sangrias are also amazing. (Try the
Lola, that one's my
favourite
!) Not to mention its perfect location that's right on St-Catherine Street
and a five minute walk from Guy-Concordia metro.  
http://en.terrassesbonsecours.com/
http://www.belleetboeuf.com/en/restaurants/montreal/