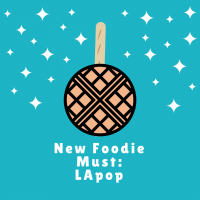 By Vassili Marinis
So what's the first thing that comes to mind if you think of food on social media?
Usually we all think of those short videos on Facebook or Instagram that show different foodie trends in major cities like New York, Los Angeles, or even Toronto. Well, we even have these awesome finds right here in Montreal!
I finally visited a place that has been on my food gotta-go-to list for about a week now, and it was EVERYTHING I could hope it would be… Welcome to LApop!
Pronounced L-A-pop (a surprise to me, having said la-pop since I came across them on instagram), it's a one of a kind waffle-house located right in the heart of Old Montreal (address below), which makes is a super convenient snack spot for anyone walking about downtown!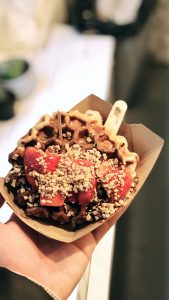 Their main (and most Insta-worthy) offering is their waffle on a stick. What starts off as a plain waffle is yours to customize with different dips and toppings to make your own! Things like chocolate, nutella, fruit, graham crackers, and much more. You can even try some of their specialty combinations, as well as their Pop of the Month (the one for February was AMAZING, picture on the right).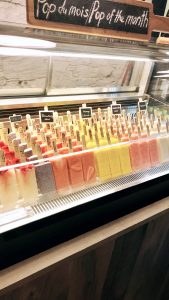 They also offer different kinds of popsicles from LOVEpop and BOOZIpop. The LOVEpop popsicles are tasty fresh fruit popsicles perfect for a nice refreshing snack, and they have a Pop of the Moth for LOVEpop as well! BOOZIpop, on the other hand, is just as fun as it sounds. While these popsicles are also made of fresh fruit, they have a special ingredient: you guessed it, booze! They are just as refreshing and tasty as LOVEpop, but with an added kick.
Of course, on top of all this food, the whole area is an aesthetic dream come true! With so many cute spots it makes for an ideal location for a photo or story post.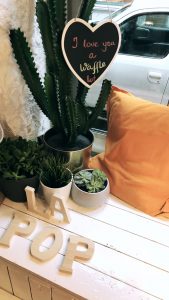 So in case you couldn't tell, I DEFINITELY recommend you all check out LApop at 436 Rue Saint-Francois-Xavier, Montréal. Whether you get a waffle or a popsicle, it is a perfect snack stop. And make sure you say hello to the staff, they are so friendly! All in all, I love this place a "waffle" lot (full credit to the sign in the picture on the right for that).