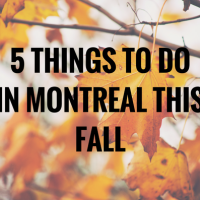 By Noemie Gokhool
Even though the weather has been confusing lately, it's safe to say that it officially feels like fall. It's the coziest season of the year where all the leaves are changing colours and the big sweaters are back. There's something nostalgic about fall since it's a time of warmth and coming together. There are so many reasons to love fall, such as baking pies, drinking hot chocolate and snuggling by the fire. Here are a few things to do around Montreal to get you in the fall spirit!
Christmas Tree Picking at Quinn Farm
Located just 25 minutes from Montreal, Quinn Farm is the perfect spot to pick Christmas Trees with your family and friends.  There's also a gift shop with homemade pies and jams that are worth trying. Don't forget to eat their delicious corn on the cob before leaving. Happy picking!
Hike on Mount Royal
Once in a while, it's good to disconnect from daily distractions and get in touch with nature. The perfect spot to feel this way is to take a hike up Mount Royal and cherish the beautiful scenery while walking on a bed of multicolored leaves. It's a fun activity for families and couples to enjoy. Once you get to the top, the view is breathtaking. Don't forget to wear comfortable shoes!
Spa Day at Bota Bota
If you love to relax, the thermal bath experience at Bota Bota is a perfect way to release your stress. Experience the views of the Old Port whether you're in the outdoor hot tub or indoor dry sauna. A spa day in the fall is a must since it's not too hot or cold; it's just right for your body, mind and soul.
Leaves Café    
This tiny leaf themed café is a hidden gem in Montreal. There's a variety of cactuses and green plants in every corner of the café which you can purchase. The drinks are unique since they are plant-based and you can add a vegan or gluten free pastry on the side. This is a cute spot to hang out on a rainy day while enjoying a nice latté or tea.
Spend a Day at Indigo
Who doesn't like being surrounded by books?
Indigo is always up-to-date with literary genres that will get you in the fall mood. Indigo has a coffee shop where you can read a good book and enjoy soothing music in the background. Currently, there are selections of cozy blankets, fluffy socks and recipe books that will prepare you for the season.