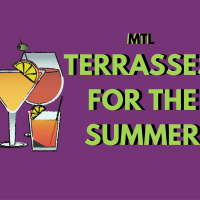 Written by Vassili Marinis
We are in the middle of the best season in Montreal. Along with the sun and all the outdoor activities, the best part of Montreal in the summer is eating and drinking outside on a terrasse. Here is our guide to some of the best terrasses in the city.
Montreal Poutine
This restaurant is actually a pretty cool find! Situated in Old Montreal, the front of the restaurant is a door that leads back to a beautiful open air eating area. While there is an indoor eating area, the outdoor terrasse is a beautiful place to eat a good poutine and drink some of their delicious sangria. Plus, the fact that it is so close to the center of Old Montreal makes it a perfect stop for a quick bite to eat during the day.
Warehouse
Warehouse has your typical terrasse on Crescent Street, which has an amazing atmosphere especially on weekends. What makes Warehouse different, however, is their menu! Every single food item is only 4.95$, be it an appetizer or a main meal, which makes for not only a lot of food, but more money for drinks, which taste amazing. The best part is that even one item of food is enough for the entire meal! Warehouse is definitely a must for anyone looking for a good terasse.
Sésame
A great place to go for asian fusion, Sésame also has a gorgeous terrasse right in the middle of Place des Arts, which is cool in the summer because you get a nice view of all the activities going on there. The food is really tasty as well, and they have a table d'hôte lunch menu which makes it a perfect spot for an outdoor lunch date.
Terrasse Place d'Armes
This restaurant offers good food, good drinks, and a great rooftop terrasse with a one of a kind view of Place d'Armes. While their menu may be a little bit on the pricier side, the quality and the view make it completely worth it! The terrasse can also be covered, so that it can be enjoyed rain or shine. Next time you are near that area, make sure you stop by and spend some time having food on a roof!
La Banquise
La Banquise is an amazing poutine restaurant, serving unique dishes, and while most of the eating area is inside, there is a gorgeous backyard terrasse which makes for a great experience. Especially with the restaurant being open so late, it is great to have the view of the stars above you as you eat your food. If ever you are in the mood for a creative poutine, make sure you stop at La Banquise, and ask to be seating outside, you won't regret it!
So go on out and enjoy a refreshing drink and good food on a beautiful terrasse!