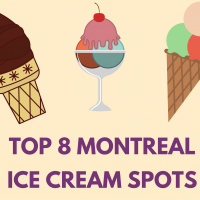 Written by Marc Matar
Time to get out of your Mc-Flurry comfort zone. Summer is on its way and this calls for getting ice cream wasted.
Don't get me wrong, I do eat ice-cream in the winter; but there's something quite nice about having ice-cream that actually feels colder than the weather forecast.
So get your shades out, grab a friend, and head to one of these ice cream spots on our list!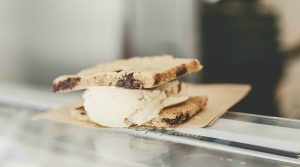 Dalla Rose: St-Henri's very own Dalla Rose is THE place to stuff your face with the tastiest ice cream cookies in the city. The crèmerie's homemade ice cream and cookies are to die for, and their vegan options will for sure impress your #VeganLyfe friends.
La Diperie: Ever dreamt of dipping your ice cream in gooey chocolate fudge coated in basically anything you want? Look no further. La Diperie, with its numerous locations across Montreal, serves its happy customers a wide range of mouth-watering dips and creative toppings to create the most photogenic ice-cream cone on the face of this earth.
Jeff de Bruges: This Montreal-based chocolatier makes the best French-style waffle cones in the city to complement their unique ice cream, frozen yogurt and sorbets. Here comes the best part though: you can indulge and dip your ice cream cone in their Belgian melted chocolate, selected by master chocolatiers.
Wild Willy: Get your ice-cream from one of the West-Island's most iconic ice-cream parlours and stroll around the picturesque Pointe-Claire village for a perfect summer afternoon. Can you think of anything better?
Crèmerie Pinault: Indulge in some of the best soft serve ice cream in the city in this Laval locals-favorite gem. Opened in the early 50s, Crèmerie Pinault lets you mix up to 3 flavours in your soft serve cone. #Inception
Pile Ou Glace: Take your taste buds on a trip to Italy in Montreal's finest gelateria, Pile Ou Glace. Of course, it is assumed that you're only having gelato AFTER stuffing your face with pizza, considering you're in Little Italy and all.
Spoum: If you're not sure whether you'd rather have mousse or ice cream for dessert, head to this Mile-Ex ice-cream shop to try out their very unique mousse/ice-cream hybrid dessert. And you can even bring your four-pawed friends to this ice cream joint: Spoum offers some of the finest dog ice cream in the city.
McDonald's: It's 2 AM, you're really craving ice cream and you spot the big "M" sign from a distance. Go ahead, we won't judge you. #Its2017