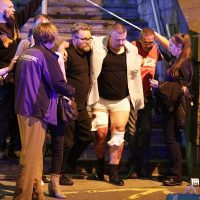 This story is still developing.
UPDATE 5/23 9:00 A.M..:
22 have been confirmed dead and 119 injured.
ISIS has claimed responsibility for the attack.
At least 22 people killed after explosions rang out at the end of an Ariana Grande gig in Manchester Arena
Teenage fan who had once met the popstar was the first person named as a victim of the bomb blast 
Police confirmed the suicide bomber died at the venue after an improvised explosive device was detonated
US security sources say he traveled to the arena by public transport. Another man, 23, has also been arrested
23-year-old Grande tweeted: 'Broken. From the bottom of my heart, I am so so sorry. I don't have words'
Ariana Grande had just finished her last song and left the stage before the explosions began.