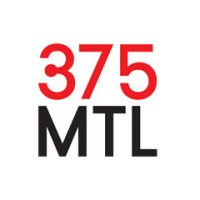 Written by Kristen Tom
So in case you haven't heard already, we are doubling the fun this year with two major birthdays to celebrate; Canada's 150th anniversary of Confederation and Montreal's 375th Birthday! You know what this means….. PARTY! And I mean, let's be honest, Montreal is the place to party, the host with the most, and the IT place to be celebrating these huge milestones. The city has really outdone itself in preparation for the celebrations with over 175 concerts, festivals, cultural events and activities for everyone to enjoy.
So clear your calendar and put your party hats on, because you're invited to celebrate Montreal's and Canada's birthdays! Here are my top activities you gotta check out:
1) AURA
When: March 21st to September 30th 2017 – Notre-Dame Basilica of Montréal
AURA is by far a must-see from the programming. If you've been inside the Notre-Dame Basilica in Old Montreal, than you already know how beautiful it is. But I have to tell you, this presentation shines a whole new light on the lavish building. The lights and orchestral music work together to create a three-act multimedia spectacle, highlighting the grand architecture of one of Montreal's well-known canvases. A little note, stay after the show. You can walk around to look at the smaller luminous installments set up around the Basilica too.
For more information on showtimes and tickets, check out the link below:
http://www.aurabasiliquemontreal.com/en/
2) Expo 67 – A World of Dreams
When: April 26th to October 8th – Musée Stewart
Also known as the "Universal and International Exhibition", Montreal became the first city to host this huge event, commemorating amazing technological innovations. It features an exhibition that offers everyone of all ages to step back in time through soundscapes, video mapping and virtual reality. Truly a trip you don't want to miss.
3) Montreal Avudo
When: May 17th to September 2nd, 2017 – Quai King Edward, Old Port of Montréal
Lights, water, action! This performance is the definition of water works. Projecting archive images, original documents, illustrations and 3D animations on moving water, Avudo brings history to life through this entertaining installation of water jets. It's sure to be a splash! (Pun intended)
4) The Giants
When: May 19th to May 21st, 2017 – Secret Location
The Giants have answered the city's invitation in celebrating the two birthdays and will be making their way to our streets. So keep your eyes peeled and look towards the sky, because you might have a run in with the Marionette Giants of Royal de Luxe.
5) Électro Parade
When: September 2nd, 2017 – Jeanne-Mance Park
Attention! Attention! Montreal will be hosting the first Électro Parade in North America! This is not a drill. For Montreal's 375th birthday, a line of floats with slicing sound systems will fill the streets of Jeanne-Mance Park as local and international DJ's perform and lay the beats down for Montreal's giant street party. You can expect this to be the one of the biggest birthday parties in Canada as this worldwide trend is making its way to Canada's party city.