Written by: Vassili Marinis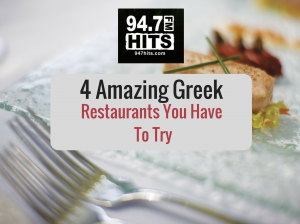 Thanks to the huge Greek community that has been established in the greater Montreal area for years, there is never a shortage of great Greek food. Whether you are looking for a nice sit-down meal or just a quick fix you can bring at home, this great city is always sure to satisfy your cravings. Here are just a few of my favourite spots:
Marathon Souvlaki
For anyone who has seen my top restaurants of the West Island, you already know how I feel about Marathon. For those who don't, I really suggest you give it a try! The food is spectacular, and they are open late so you can go at any time (sometimes even until midnight). Another great thing about this restaurant is the pickup service. While their takeout counter is always crowded with people, it is always nice to be able to bring the food with you and enjoy their souvlaki or even their gyro at home!  For those who find the West Island too far, there are also restaurants in Laval and right across from the Namur metro station, and trust me, the food is worth the trip.
Christina's Kitchen
4367, boul. Notre-Dame – Chomedey, Laval
Now to anyone familiar with greek food, Christina's Kitchen will feel like exactly that, a kitchen. This restaurant will truly make you feel like you are at home eating a home made meal. With dishes like souvlaki and pastitsio (which you can even order by container to bring home), this is sure to make you fall in love with food all over again. Add to this the amazing Christina! She is always there to greet you and to make your experience the best it can be. I promise you will always want to come back to Christina's Kitchen.
Mr. Puffs
While going for dinner is always nice, sometimes we just want a little snack, or maybe even dessert! Here's where Mr. Puffs comes in. Aside from a tradition Greek frappé, their main focus is a Greek dessert called loukoumades. While some people see this as another version of a doughnut hole, they are everything but. These little balls of dough taste heavenly, whether they are dipped in honey, or even covered with chocolate or many of the other toppings they offer. With many different amounts you can order, they are perfect for a quick snack or even for a party. They have locations currently in Laval and Saint-Leonard, and 3 other locations in the greater Montreal area opening soon.
Souvlaki Bar
Another restaurant that started in Laval and is currently undergoing expansion, Souvlaki Bar is the perfect destination for a fancy night out with friends. Be it at their location in Laval or even their new location in Saint-Laurent, the classy ambiance and tasty food makes for a great meal. My personal favourite is the meat to share, for two or for four, that gives you a variety of different meats to try, which can be made difficult by their amazing appetizers, which I never can seem to stop craving!  For those in the downtown area that just need a quick stop on their lunch break, there is even a food court location in Central Station at Bonaveture, and the efficiency does not compromise the quality of their food.
These restaurants are sure to make you go "OPA!"