Written by: Karyah Foster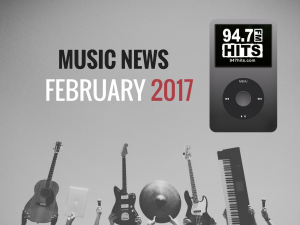 So, would you like to read the bad news in music, or the good first? Well, I'm starting off with the bad just because. But don't worry, it'll get better!
HMV
If you haven't already heard… It's official. HMV will be closing down ALL of their stores in Canada by April 30th of this year. You may be thinking, "who even still buys physical copies of CDs and DVDs?!?!" Me! I still do, I even have the radio and shelf of CDs to prove it. Though, I should have seen it coming, with the rise of online streaming that is available out there, who would really like to go out of the comfort of their own home to buy it. I mean, I will admit that I do listen to Spotify… a lot, but I'm still a fan of going out and getting the hard copy and reading the insert that comes with it. I mean, Walmart sells CDs and DVDs, but it's just not the same, you know?
Quit You – Lost Kings
I've been a fan of Lost Kings for a while now, but they've really made waves with their release last year Phone Down. They just recently had their first release of 2017 titled Quit You, which features the vocals from All Hands on Deck singer Tinashe. A club banger definitely, Lost Kings & Tinashe definitely slayed this collaboration. Listen to it here:
https://www.youtube.com/watch?v=jLfphtPIdQI
SweetSexySavage – Kehlani
To be honest, I never really knew about Kehlani other than the fact that she was featured in Zayn's song Wrong featured on his debut album Mind of Mine, and I mean I really do like that song, but I didn't know her music and style apart from that.  Honestly, something about this album reminds me of TLC style music and I'm really not complaining. Fun Fact: Remember the SnapChat filter with the song that goes "I go I go I go Crazy"? That's Kehlani's song CRZY, track 6 on her new album! All in all, SweetSexySavage is an album that I would for sure buy at HMV if I could.
*Also Beyonce is pregnant with twins! More like BeyTWICE, amirite?!?!*