Written by Liz Salzman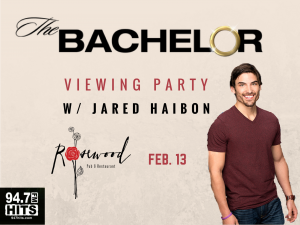 If you know me, you know that I am OBSESSED with The Bachelor. I mean how can you not be? The drama, the romance, the entertaining contestants… And of course the Bachelor himself. And this season, I love it even more because there is a woman from Montreal on the show! Her name is Vanessa Grimaldi, and she is just the sweetest! And her and Nick (The Bachelor) seem perfect for each other.
     So if you don't watch the Bachelor, you totally should now to support our girl Vanessa!
     On February 13th, there's going to be a Bachelor Viewing Party at Rosewood Bar and Restaurant, with Jared Haibon! OMG.
Jared was on The Bachelorette and two seasons of Bachelor in Paradise, and he's definitely a huge favourite from the Bachelor Family!
     And the best part is, all the money from the event goes to an organization called Overture with the Arts!
     So if you are a Bachelor fan, or just want a fun night out, you should DEFINITELY join us at this event!
     Here's how you can buy tickets: https://www.eventbrite.ca/e/the-bachelor-viewing-party-with-jared-haibon-tickets-31370094798 
Listen in on Saturdays from 8am-12pm to hear me talk about The Bachelor and other fun stuff! Follow me on social media @lizsalzman