Written by: Kristen Tom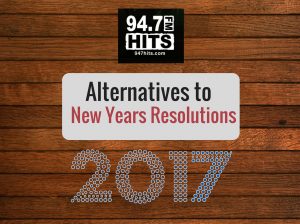 I'm sorry, but does anyone else have trouble remembering what the hell they did this past year? It's hard to believe another one has come and gone so quickly. Now of course, like the beginning of every new year, it's a tradition to make new year's resolutions. And as it is every year, it's always a difficult thing to manage until the next one comes; thinking up the resolution itself is already hard enough. Fortunately, these new year's resolutions aren't your only options. As with most things in life, there are alternatives!
So for those who are tired of setting the same goals every year, or if you just want a daring twist for the upcoming new year, here are five options you can do:
1) Create a Bucket List for New Year's
If someone were to tell you to make a bucket list for yourself, you'd probably list all the big things you want to do in your lifetime. What most don't know is that bucket lists can be made for simple things too. I love creating mini bucket lists for myself because it allows me to set attainable and reasonable goals within a certain time frame. By doing this, it always gives you something new to strive for every year.
Here are some ideas:
Take a full day for myself with no electronics
Finish a book in one sitting
Do the house chores without being told
Eat the apple instead of the chocolate cake (one on my personal list)
2) Decide what to track or measure
Think of this as your personal log of things to you want to track in your life. Doing this will help you realise things about yourself you didn't know before. For example, keeping a time log on how often you watch TV can help set a limit to how much you sit and watch your shows. This is an easy and  proactive way of changing bad habits.
Some other ideas include:
Keeping a food log
Keeping track of my money spending habits
Keeping a time log on video games
3) Follow a Monthly Challenge
Come up with a list of twelve challenges you can tackle for the year, one for each month. These challenges must be ones that are attainable and that can be achieved within those thirty days of the month. For example, in January, you can decide to declutter your house from all the gift exchanges you did over the holidays. Set another goal for February, and another for March, and so on. By the end of the year, you'll have achieved twelve goals.
4) Use New Year Prompts
Using prompts will help you sort out what you want for the new year. It's super simple and a great way to start thinking of ways to make this year even better than the last.
Here are some prompts for inspiration:
One habit I'm going to build
One person I'm going to spend more time with
One hobby I'm going to try
One fear I'm going to overcome
One expense I'm cutting out
5) Take on the Second a Day challenge
You're probably familiar with the project when it comes to photography. Consider this version a video diary; this is my personal favorite project to do because of two reasons: one, it's a nostalgic way of looking back on your year (literally) and remembering the small moments you may have forgotten. Second, it pushes you to get out into the world and live an interesting life, try new things and see new people. Knowing that you have to take a one second video everyday makes you think of activities to do to capture on camera.
At the end of the year, you can either watch back at each clip or edit them all together to make a short video of your year.