Written by Brittany Henriques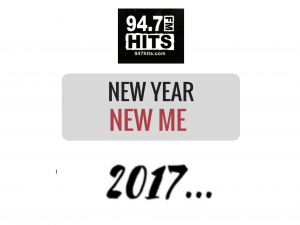 It's finally the New Year, and for many people a new year signifies new beginnings. According to Statistic Brain, 21.4% of people say that they want to lose weight/eat healthier in 2017.
   Breaking bad habits, eating healthier and exercising can be very difficult and not everyone is suited for the standard "diet and gym" lifestyle.
Step 1: Remember that it's not a diet; it's a lifestyle
   Losing weight and keeping it off cannot be done by going on a traditional strict diet, it just doesn't work and if it does, the weight will end up creeping back. Losing weight is done through baby steps, cutting on little things and slowly adjusting to eating healthy to the point that it becomes natural and even wanted. Start by cutting the sugar out of your coffee, opting for skim milk instead of cream, having eggs instead of toast for breakfast, fruits instead of sugary juices, making lunches instead of buying them, etc.
Step 2: Find a workout that you love doing
Exercising can be a blast if you find what will get you going.
Crossfit: It's a crazy killer workout that builds your endurance and strength, but the results are certainly rewarding. I would recommend Crossfit to those who like the gym but feel that they need that extra push.
Zumba: Suavamente on steroids. This workout gets your heart pumping and your body moving without the traditional gym weight lifting and machines. For those who love to dance, this is fantastic.
Boxing: High intensity and cardio crushing this workout is great for those who need to relieve some stress and punch a bag.
Yoga: There are many types of yoga, and though it is not high intensity it is still a good workout and will leave your body, mind and spirit feeling refreshed. Yoga is great for those who cannot do high intensity cardio, it helps decrease anxiety, increases blood flow, lowers blood sugar, improves your balance and so much more.
Pilates: This great workout is killer without having to stand up and jump around and that's a bonus. Pilates is great for the body, it improves flexibility, posture, core strength and balance.
   These are only a few out of so many options; you'd be surprised by what's out there! Go check it out!
Step 3: Believe in yourself
   You can do anything if you just believe. For 2017, no matter your resolution, more self-love should be at the top of the list. Love yourself and who you are, and believe that you can achieve anything you put your mind to.
"Be the change you wish to see in the world" – Mahatma Gandhi