Written by Karyah Foster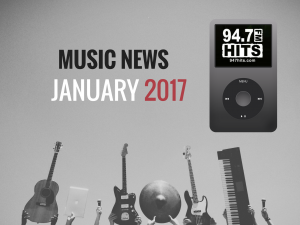 So it's basically the new year and I know so many of us are saying good riddance to 2016, but let's give it one last hoorah in talking about some of the good, bad and ugly that 2016 brought us in regards to the music.
Album of the year
     So what was your top album of this year? With a quick search on Google, we can easily see that some of this year's album's include Lemonade by Beyonce, Views by Drake, Life of Pablo by Kanye West, or Anti by Rihanna among so many other great albums that were released this past year.
     I personally really enjoyed Anti. I feel as like it was really different from Rihanna's previous album releases, giving listeners more of a mellow vibe. The song 'Same Ol' Mistakes', gave us more of a 90's feel, and songs like 'Love on the Brain' really showed off her vocal ability. My favourites on the album were definitely 'Woo' and 'Desperado'.
     Some of my other top albums of the year were definitely Last Year Was Complicated by Nick Jonas and Mad Love. by Jojo.
     Jonas' album was released in June of 2016, and was on replay for a good two-three months after that. Actually, two songs off of that album 'Bacon' and 'The Difference' were my top two most listened to songs in 2016. Last Year Was Complicated is a journey of Jonas' 2015 through both the good and bad. Songs like 'Champagne Problems' and 'Under You' are faster and more upbeat compared to some of the other songs like 'Unhinged' and 'Don't Make Me Choose'. I did find this album similar to his self-titled released in 2014, but his more recent songs have more personality, and you can tell they were written from the heart, with a different story behind each song.
     Jojo's Mad Love., which was released in October 2016, also has a story behind pretty much every song. This album contains some radio ready hits on such as 'Vibe.' and 'Good Thing.' as well as ballads like 'I Am.', 'Music.' and 'Mad Love.' which will have you feeling all of the feels. After 10 years without releasing an album, I can tell that Jojo worked hard to create something that meant a lot to her and her fans.
Fourth Harmony?!?
     If you aren't part of the Twitterverse or any social media platform, you may not have known that the 'Work From Home' singers Fifth Harmony have now lost a member. Camila Cabello has left the group to continue her own solo projects. Honestly, this was no surprise to me that she would be the first to leave, considering the success she's had in her collaborations with Shawn Mendes in 'I Know What You Did Last Summer' and more recently with Machine Gun Kelly in 'Bad Things'. I'm more surprised by how quickly she left the group, considering the group was only formed in 2012 and had many successful singles such as 'Worth It' and 'That's My Girl'.
     Not to mention the whole debacle went down kind of dirty. On December 19th, Fifth Harmony's social media accounts posted a message to fans stating that Cabello decided to leave the group and that the four remaining girls, Ally Brooke, Normani Kordei, Lauren Jauregui and Dinah Jane, were only informed through her representatives. Then Cabello clapped back, stating that her and the other girls discussed the plans that she had to move on as a solo artist, BUT THEN Fifth Harmony's reps stated that Cabello never discussed with the other girls about her plans,  because she never came to their group meetings to talk through the whole issue.
     Not to mention Jauregui was recently arrested for having illegal substances as she was about to embark on a plane, and recently, audio was leaked of her speaking to member Ally Brooke about how they are "treated like slaves" and how they work everyday and see nothing in return.
     Oh boy! A lot has happened for these girls in 2016. Let's just hope that 2017 can bring about happier times for both Fifth Harmony and Camila Cabello.
Collabs
     So, is it just me or does it seem like there were so many awesome music collaborations in 2016?! What were your faves? Here are my fave 15 of this past year.
Bacon – Nick Jonas ft. Ty Dolla $ign
Bad Things – Machine Gun Kelly ft. Camila Cabello
Cheap Thrills – Sia ft. Sean Paul
Cold Water – Major Laser ft. Justin Bieber & MØ
FAB – Jojo ft. Remy Ma
For Free – DJ Khaled ft. Drake
F*** Apologies – Jojo ft. Wiz Khalifa
No Problem – Chance the Rapper ft. 2 Chainz & Lil Wayne
Phone Down – Lost Kings ft. Emily Warren
Something New – Zendaya ft. Chris Brown
Starving – Hailee Steinfeld & Grey ft. Zedd
This is What You Came For – Calvin Harris ft. Rihanna
Tears – Clean Bandit ft. Louisa Johnson
Trust Nobody – Cashmere Cat ft. Selena Gomez & Tory Lanez
Wrong – Zayn ft. Kehlani