By: Vassili Marinis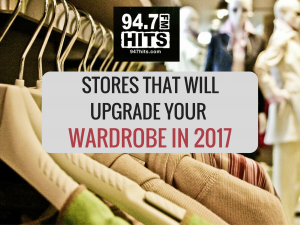 It's that time of year again,  the end of the holiday season and the beginning of  the New Year. People wonder how they can enter it as the best version of themselves. Now, we all know resolutions are hard; they are easily made, but just as easily broken, so here are a few retail stores that are sure to make you feel great entering 2017, and probably even more motivated to keep up with your desired changes!
Frank and Oak
This is a must for anyone looking for great styles this new year. They have something for everyone, whether you want simple and classy or if you're looking for more of a "street style". Not only does Frank and Oak sell beautiful, great quality clothing, but their customer experience is as impressive, if not more. On the online store, which they started off as, you can get your first outfit for 59$ and sign up for their Personal Styling service; they send you styles based on your preferences and you pay for the ones you keep! In store, you can browse their selection, grab a coffee at Café Névé inside the store, or the men out there can grab a haircut at their barber shop!* Best of all, they are a Montreal company!
Massimo Dutti
Here is another brand that I am OBSESSED with! They specialize in a classier style and sell very good quality clothing. If you are looking for a nice blazer or the perfect dress, Massimo Dutti is the perfect spot. Their locations in CF Le Carrefour Laval and at Centre Rockland look like the most beautiful walk in closet you could dream of. They also have pretty good sales that happen pretty often throughout the year, so you can always get a good deal on any of the clothing in the store. Make sure you check them out before your next event, or even to turn heads in your daily life.
Club Monaco
As you may have noticed, companies are starting to shift their retail stores into an experience instead of just a building with items to buy, and Club Monaco is a prime example of this. Their location on Sainte-Catherine street is more like a showroom than a store, showcasing different brands of clothing along with a beautiful display of books, art, and flowers. The interesting thing about Club Monaco is they constantly change their store and update it with new collections, and each store has a different style along with a different assortment of products. The Montreal location is an ideal spot to find stylish fashion and beautiful accessories, and make sure you grab a coffee at the Café Myriade at the bottom floor.
Lululemon
This goes back to those resolutions. Let's be honest, most of us want to work out more, or even just keep up our workouts and lead a healthier life. Well there is no reason we can look amazing while doing it! As a guy, I discovered Lululemon well after it had already been a staple amongst women for their yoga pants, but thay are SO MUCH more than that. They have some of the most comfortable workout clothes I have ever owned, and they are great for in the gym or even outside for running or even skiing and snowboarding. Anything you will buy will be comfortable, will be of amazing quality, and will last a long time. Though their clothes may be on the pricier side, they always have a sales rack that holds some pretty good deals that will be sure to expand your wardrobe for a lot less than you thought.
These four stores are sure to become your new favorites, or maybe at least a nice treat your closet will enjoy. Now you can enter 2017 with an amazing new look that is sure to make you feel excited about what this next year will hold for you.
*excludes the DIX30 location