Written by: Brittany Henriques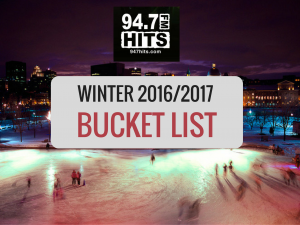 What's boredom? I live in Montreal!
That's right! We all know that Montrealers have it best. Our wonderful city has so much to offer and with the holidays around the corner you need to make yourself a bucket list of a bunch of fun things to do with your friends and family.
Let's face it; our winters are long, cold and awful. But luckily, Montrealers have the chance to make those 6 months brighter by participating in all sorts of cool activities.
Go to Merry Montreal
Merry Montreal offers a wide variety of fun activities for this holiday season such as: The amazing Christmas Market at Place Jacques-Cartier, take pictures with Santa Claus, participate in some holiday karaoke, watch outdoor holiday film screenings, go to marshmallow roasting stations, do some cool yoga, participate in gift hunts and taste beer from microbreweries across Quebec!
Go do a "Secrets of Santa tour"
Guidatour offers a "secrets of santa tour" around Old Montreal offering the coolest history lesson ever.
Go to Montreal's Craft Beer Tour
This 2 kilometer walking & drinking tour through the Entertainment District allows you to visit 3 craft breweries. This tour offers Montrealers the chance to taste a bunch of different wonderfully crafted beers along with food such as poutine, cheese, and chocolate– everything that is great in one!
Go to Luminothérapie
Have some winter fun at Quartier Des Spectacles in the amazing lit up interactive installation made purposely to cheer you up during the dark wintery months!
Go see the "Santa's are taking over" exhibit
The Stewarts museum has the coolest Santa figurine exhibit, if you love Santa it's a must-go!
Go drink hot chocolate
Tis the season for hot chocolaty drinks! With Montreal's incredible selection of café's, this winter go on a hunt for the best hot chocolate in town.
Go participate in a Gingerbread house competition
Competitions are fun, gingerbread tastes amazing and decorating them is even better. If you're competitive and love sweets, get together with friends and create a gingerbread house contest!
Go do a Silly Secret Santa Gift Exchange
The holidays are great because it brings people together and the best remedy for any sad day is laughter! Gather up a bunch of your friends and do a silly secret santa gift exchange and make sure that you pick out the craziest gift.
Go skating in the old port
Skating is so much fun and Montreal's Old Port has a gorgeous outdoor skating rink for everyone to enjoy!
Go see the Nutcracker
Les Grands Ballets Canadiens de Montréal puts on the greatest show every year, its beauty is not to be missed!
Go to Igloofest
EDM music, outdoor concerts, loads of people and loads of fun.