Written by: Vassili Marinis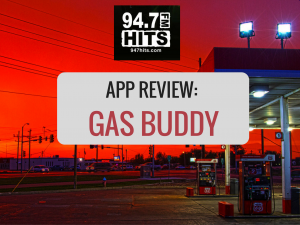 I'm always on the hunt for cool apps! Whether I want to shop, connect, or play games, apps are a big part of my life, and I'm pretty sure most people would say the same. So when I hear that there is an app that can help with finding cheaper gas for my car, I'm all ears.
Actually suggested to me by a fellow Hitsquad member Ally, GasBuddy is an app available for every mobile platform and uses a community system to show you the price of gas stations in your area. This makes it much easier to find the best price, which is great when you think about how expensive gas can be! Here are some of the ways that GasBuddy can make your life better:
Gas Prices
The main feature from GasBuddy is the gas prices, which is the first menu that opens up when you open the app. You can either view the prices as a map or as a list of different stations. What's great about this app is that you can not only see the stations close to you, but you can search the map view for a specific area you know you will be and see if there are any cheaper stations there. Also, something I only noticed a while after I started using the app, if you scroll up to refresh the list view, you can see the trend of gas prices in your area, such as "Prices Dropping in Montreal", so you will always get the best price!
Filters
So this feature is an extension of the gas prices menu, where you can apply different filters to your results to get exactly what you are looking for, and they have filters for ANYTHING! The default organizes the stations by distance first, and then by price, based off of your current location, but you can change this to favor one or the other. You can also filter by fuel grade, brand, amenities, or even Top Tier stations, which have fuel that helps clean your engine.
Achievements and Prize
Something that makes GasBuddy all the more fun is the achievements section of the app. By completing different actions in the app, such as reviewing the accuracy of a price or submitting a price of your own, you can receive points towards your account. Now what you use these points for is the best part: to win free gas! GasBuddy has a daily draw of a 100$ gift card to go towards your next gas purchase. In order to enter, you need to have at least 1000 points, which isn't hard to achieve seeing as most achievements give you 500 points. So if ever you happen to not be intrigued by finding the cheapest gas in your area, for some reason, at least you will be excited by the chance of winning a gift card!
Another feature I left out of this list is the Coupons menu, but that is because I have yet to see a coupon pop up in the app, so perhaps there are just none available in my area, or maybe the feature is not ready yet. However, even without coupons, GasBuddy is an amazing app that can really help you save a bit of money, or even to discover new gas stations in your area that may offer better amenities.