Written by: Karyah Foster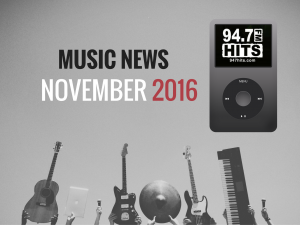 There`s tons of awesome music out now, so it's time to plug in those headphones and enjoy some new music that is coming your way! Here are my new favorites.
After ten years without releasing a new album, the Too Little Too Late singer has released her 3rd studio album Mad Love. Being signed to Atlantic Records after a long legal battle with her former label Blackground Records, Jojo has finally been able to release her music to the world. The album features collaborations with Alessia Cara, Remy Ma and Wiz Khalifa, who is featured in the first single from the album "F*** Apologies". Mad Love is an easy listening album with deep influences from Jojo's past years without the release of new music. You can stream Mad Love on Spotify or buy it on Google Play and iTunes.
Drake has released three songs, Sneakin' featuring 21 Savage, Fake Love, Two Birds, One Stone and the remix of Dave's Wanna Know from his newest project More Life. Could this mean a new Drake album will be coming soon?!?! Whether it is a full album or just an EP, it should be released sometime before the New Year! You can stream the released songs from Spotify or buy them on Google Play or iTunes.
Niall Horan has released his first solo single after One Direction's announcement of their hiatus.  This is also the first single released by any of the four remaining members of One Direction. This Town is a slow, acoustic sounding song that kinda brings me back to 2012/2013 One Direction. Oh the good old days, oh the memories. 1D's fans may have some mixed emotions about this considering it seems as though the hiatus will never end, and the world will never get new One Direction music, but in all This Town is a great first single from Niall. Check it out down below! You can also listen to it on 94.7 Hits FM, either on the radio or streamed through our website or app.
https://www.youtube.com/watch?v=hNBlfyYHu80
Shout Out to My Ex – Little Mix
Little Mix, the four-piece girl group in the UK consisting of Leigh-Anne Pinnock, Jesy Nelson, Perrie Edwards and Jade Thirlwall, have released the lead single Shout Out to My Ex from their upcoming fourth album Glory Days. As many of you may know, Perrie was in a four year relationship (including two years of engagement) with former One Direction member Zayn Malik. This song is the ultimate anthem to get you over the heartbreak and the love that once was, and make you feel brand new! Watch the video, you can't tell me you don't feel awesome after hearing it!
https://www.youtube.com/watch?v=bFDzhKdrN9M
Concerts this Month! November 2016
Here is a list of few upcoming concerts this November in Montreal.
Two Door Cinema Club – Monday November 21 @ Metropolis
Simple Plan – Wednesday November 23 @ the Bell Centre
Coleman Hell – Friday November 25 @ the Fairmount Theatre
MØ – Wednesday November 30th @ Corona Theatre