By: Kristen Tom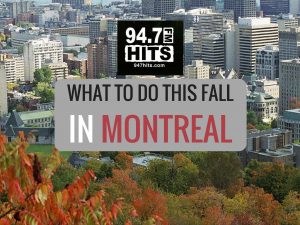 Yup, it's that time of year again… Between passing the halfway mark in the school semester and deciding on how to dress for the fluctuating Montreal weather patterns, I think it's safe to say November isn't the breeziest of months to pass through. If you haven't noticed the frost on your roofs already, winter is just around the corner, and if you're an early bird like me, you have already started putting change in your money jar for holiday gifts.
BUT FEAR NOT! To get past the greys growing on our head, here are a few things to do this month in Montreal to enjoy the colors of the season and to fall back in love with Fall:
1) Mont-Royal Lookout Point
Walking up the paths of this famous Montreal attraction is a year round activity to do, but to do now in this season is a whole other experience to say the least. To surround yourself in the color of the leaves is like being transported into a Monet painting… breathtaking. Not only is it great for quality family time, it's quite a romantic site to stroll on a date.
2) POP Montreal Music Festival
Whether you're an indie music lover or a lover for a good party, write POP Montreal International Music Festival on your list of things to check out this month. Up until December 18, this cultural event delivers on whatever your heart desires; from live concerts, to fashion shows, to film screenings and all night parties. The best part of it is that you get to experience the art of emerging artists from around the world! Check out this link for upcoming events on their calender: https://popmontreal.com/en/calendar/ It's a spectacle!
3) High Tea
If you're looking for a change in hot beverages (to my coffee drinkers), tea is a great substitute! Not only that, but it's great to socialize over with friends and wash away whatever stress you're dealing with. I mean, c'mon, finger sandwiches, dainty tea cups, baked goodies; what's not to love? Le Parloir located on Saint-Denis is one of many options for high tea and delivers on the cozy and warm environment.
4) Virtual Reality Garden
No need to go too far to escape the cold weather. Montreal's Phi Centre offers a new programming "that will take you on a journey for the senses" with the rising art form of virtual reality. If you happen to be in the area of Old Montreal, you have to make a pit stop here and check out this program, trust! If you aren't, the travel is worth it. It'll blow your brains out! From now until November 20, you have a chance to experience a new world within the city. Go put the headsets on and enjoy the journey. (Did I mention this installation is free to do?)
5) Jazz Session
Every Wednesday, tune in to the Upstairs Jazz lounge located on rue Mackay for free jazz sessions with students from the Concordia jazz program. This intimate lounge is a great way to unwind and chill with friends after a successful (or not) day of studying. The ambiance of the room alone will have you relaxed before your drink does. So in a nutshell:
Great food: Check
Great drinks: Check
Great atmosphere: Check
Great (live) music: Check
What could be better?
6) Future Memories Exhibition
To my fellow art lovers, pass the time and immerse yourselves in the mixed media projects at the Future Memories Exhibition being held at Articule on rue Fairmount Ouest until December 4. Covering the topic of memory, this event promises insightful media works that will have you exploring our current technology-filled era. It's a great combination of entertainment and learning. Quite mind-blowing to say the least.
7) Santa Claus Parade
OMG! Your favorite jolly, red-suited man is coming to town and will be riding down the street of Ste-Catherine Ouest on his open sleigh. On November 19 at 11am, relive your childhood memories as you literally watch Christmas walk along the downtown area of our city, and experience the laughs and cheers this upcoming holiday brings out of us. In the spirit of the holiday, this parade never fails to bring children, teens and adults the tickling joy of Christmas.