By Brittany Henriques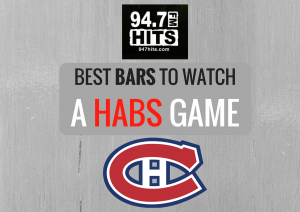 Montreal is a great city with a crazy nightlife and loads of things to do for any occasion. Hockey nights in Montreal are best spent at the actual Habs game, or a really cool bar. If you're in need of a little change from the regular and famous Cage Aux Sports, here's a little list of a few of the best bars to go to on game night.
Fitzroy
551 Avenue du Mont-Royal E
This awesome up-beat bar has everything you and your groups of friends need to have a crazy good night. This cool-cat place is the prime spot for pool and beers lovers, you get to play pool in between periods and watch the Habs win in a great atmosphere.
Moose Bawr
1817 Rue Sainte-Catherine O
In the heart of downtown Montreal, Moose Bawr is the best place to go for cheap delicious drinks, free popcorn, friendly staff and a great ambiance perfect for game night. The mix of tourists and local Habs fans makes this place a must-go for at least one hockey game this season. It's always packed so make sure you get there early enough to ensure a great spot for you and your friends!
Forum Sports Bar
2313 Rue Sainte-Catherine
For us millennial's, we have never gotten the chance to experience what is was like to watch a game in the famous Forum, but the Forum Sports Bar makes it possible by bringing a little bit of the magic back to life in the historic place. This awesome bar situated on the fourth floor of the Forum has 32 giant-screen TV's, pool tables and bowling available for costumers to have a blast the entire night. Not to mention they have a bunch of great pub food and drinks!
Chez Serge
5301 Boul St-Laurent
Two words: mechanical bull.  I can't think of anything better than getting together with a bunch of friends, watching the Habs game in a really cool place and celebrating their win with free mechanical bull rides and a bunch of shots. Chez Serge is incredibly popular but it is worth the wait, if any!
Café Olimpico
419 Rue Saint Vincent or 124 Rue Saint Viateur O.
Want a change of scenery and not into bars? Café Olimpico is the place to go for the best coffee in town. This sports café is known for their coffee, incredibly friendly staff and great atmosphere to watch any sports game. Watching the Habs games doesn't have to include beer; 'un buon espresso Italiano' is perfect for the non-drinkers and a great night in either the mile-end location or the new old port location. I really love this place, and you will too, I promise.
La Station Des Sports
2051 Rue Sainte-Catherine – multiple locations
This huge bar has all the great pub food, huge TV's and crazy atmosphere that you need for a great hockey night. La Station Des Sports, it says it in the name, with locations all over the island of Montreal, you don't have to go too far to enjoy the Habs game.
Bier Markt
1221 Boulevard René-Lévesque O.
This elegant restaurant and bar right across from the Bell Centre, is the best place to watch the game if you're a huge beer lover. They carry over 150 beers from 30 different countries and the vibe is super cool. Nothing compares to the great downtown Montreal vibe on game night, and Bier Markt surely encompasses it all!