Written by: Vassili Marinis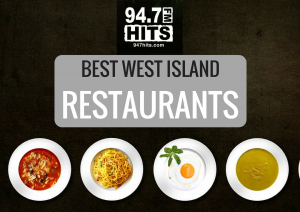 I love Montreal! How can you not? But there's one thing I feel this great city and all its surroundings do not get enough credit for: food. No one can deny that natives and tourists alike love Montreal food, but in a decade where going out to eat has become the new "let's go to the mall", it is time to put cuisine right up there with the things that make this city great.
This culinary kingdom is not bound by the downtown core, it reaches far and wide to suburbs on- and off-island. For us "westies", a self-made title straight from the West Island itself, it is not always practical to make the trip out to the city. So, for those of us in that situation, or even for people living elsewhere who hate having to look for parking, here are a few places in the West Island that will make you never want to leave:
Jukebox Burgers
11798 de Salaberry, Dollard-des-Ormeaux, QC
Burgers! Milkshakes! Music! Sounds like a scene from Grease we all wish we were in, but it's actually what you will find at Jukebox. This restaurant looks freshly transported straight from the '50s with its diner vibe, but with a 21st century touch. Their burger meat is prepared right in the restaurant and go great with any of the bun choices they offer. They even have a challenge burger that's free if eaten in 60 minutes. They also serve sandwiches, wraps, mac and cheese, and plenty of other typical diner options; they just do it better. And as someone who has had their mac and cheese, I have still not recovered from how good it is!
Marathon Souvlaki
331 boul. Des Sources, Dollard-des-Ormeaux, QC
Now here's the thing about food from different countries. There are so many "fast-food" versions out there that appeal to people because foreign foods are often associated with inconvenience. Marathon Souvlaki blows that association completely out of the water. Their food is amazing, and this is coming from someone who has grown up with Greek food his whole life. It's a great place to go with friends, and unless there is a huge pick-up rush (because yes you can pick up the food to eat at home) the wait time is almost non-existent even in their sit down setting. Best of all, the earliest they close at is 11 pm, so your cravings are handle at any time of day!
Kitchen 73
45A, boul. Brunswick, Dollard-des-Ormeaux
Like I said, food is the new attraction for social gatherings, and brunch is once again the "it" meal of the day. Kitchen 73 is one of the best spots in the West Island. Aesthetically speaking, it is very chic; their red, white, and black, colour scheme something gives the restaurant a luxurious feel. But most important is the food, and they succeed just as well! They have very unique takes on the classics, such as putting parmesan cheese in their breakfast potatoes, and they offer many different combinations of foods. What is most distinguishable however, is their focus on a gluten-free menu, with a variety of options that anyone can enjoy. They also serve lunch, seeing as they are open, as their name cleverly suggests, from 7-3.
Smoke Meat Pete
283 1ère Ave, LÎle-Perrot, QC
So to anyone thinking that Île-Perrot is not technically a part of the West Island, one trip to Smoke Meat Pete will prove how deserving it is to be on this list. The food is nothing short of phenomenal, whether you are getting an individual sandwich or are making your own, you will not be disappointed. The restaurant features the tag line "Can't beat Pete's meat", and I must agree. That's not all that sets it apart! They also have live blues music every night from 7:30, which adds to the ambiance of the restaurant. You can also purchase the food as take-out if you are more in the mood to stay home.
La Perle
4230 boul. Saint-Jean, Dollard-Des Ormeaux, QC
If it is not already, La Perle has to be added to your list of go to restaurants. They serve amazing Asian cuisine and offer so many ways to eat! You can choose between an All You Can Eat menu or an À La Carte menu, the latter also available as a take-out order or for delivery. Comprised of all the "All You Can Eat" essentials (and a few dishes unique to La Perle), their menu, combining Szechuan and Thai cuisines, is the most extensive in the West Island. Plate after plate, everything I have ordered there has tasted amazing, and I never leave this place still hungry; even the À La Carte menu portions are filling.
Gigi Pizza
302 Chemin du Bord-du-Lac-Lakeshore, Pointe-Claire, Québec
So many restaurants try their best to make the best pizza out there, but Gigi is one of the best pizzas in town. Located right in the heart of the Pointe-Claire Village, it is the perfect stop whether you are on a walk along the water, grabbing a quick bite, or even just out for super with friends. Their pizzas are always great and everything from the dough to the sauce to the cheese tastes fresh. Gigi also serves submarines, pasta and poutines, all of which are right up there along with the taste of their pizzas. A visit to Gigi is truly recommended, even if it's just for take-out.
Le Bourbon no. 89
3689 St Jean, Dollard-des-Ormeaux, Quebec
Known for it's southern feel, this place has everything. Amazing entrees, one of the best smoked meat, smoked chicken, build your own burgers (which are to die for!), super fresh salads and awesome deserts. Perfect place to go for lunch with friends! And don't get me started on the Bourbon fries…. All I can say is YUM.
Sahib Restaurant
225B Hymus Blvd, Pointe-Claire, Québec
Last on the list is a place I tell everyone to try at least once, knowing they will go back again and again. Sahib is not only the best Indian food in the West Island, but it also has something for every type of eater. At lunch, they offer an amazing buffet complete with all the Indian dishes your heart desires. For supper, the restaurant transforms to a quieter ambiance for a "sit-down" vibe with a one of a kind menu filled with meals that will make you want to go back to have a chance to try them all. No matter when you go, however, the food tastes amazing, and you always know you will get a one of a kind experience.